Hi, I'm Brie from Breezy Pink Daisies and I am so excited to be here at One Frugal Chick! I'll be posting here every Monday with a Fun & Frugal craft/DIY project!
I'm sure you've all seen these beautiful tin stars and have probably wanted some yourself, right? Well, yikes, these stars can be expensive! But have no fear – you can make them yourself!
The inspiration: stars that will cost you about $50 – $75…
And my fun and frugal version: cardboard stars which will cost you, well, just about nothing!
It's quite simple actually. You just need some cardboard (I used a cereal
box for the little one and a pizza box for the larger one).
First, trace and cut out your star. Don't have a star to trace? I used
lined filler paper (because you can see through it) to trace a star I
found on google images – then I traced that onto the cardboard.
Next, score the star 5 times, from each point. I pressed hard with a pen to
make the creases. (You can see the creases in the above picture if you
look closely)
Now, fold on all of your creases. It should look like this!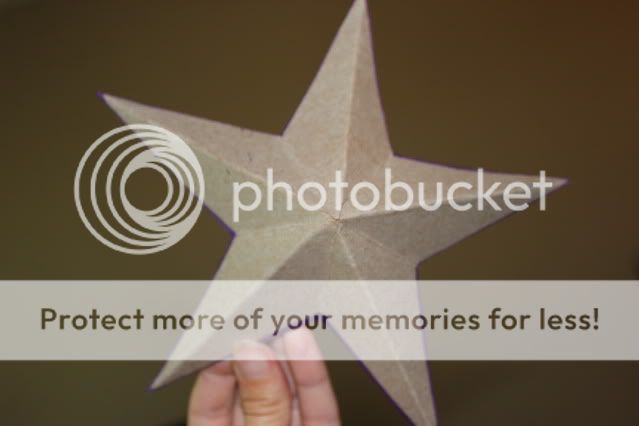 Now it's time to add the paint! For the little star I just mixed some green I had with white to get a color I liked. (It looks flat here – but I just popped it back out when it was dry and it looked great again!)
If you want to hang them up, add some string (I used embroidery floss) to the back with tape. And then, to be honest, I used tape to hang them up too because I didn't want to make nail holes!
And….here they are! The decorating possibilities for these little guys are endless! Have fun!
___________________________________________________
Come see more fun ideas at Breezy Pink Daisies! You can also choose to follow Breezy Pink Daisies on facebook, twitter, or email!