I wish I had a before picture…but I don't, so imagine with me a black dirty plastic drawer thing with random red scribbles and crazy skater-type stickers on the top. I see this on the curb and think, "hey, that looks like fun" so there starts this mini adventure!
So, what to do with it? Well, I love the Vera Bradley pattern, "Mod Floral Pink" (see below) and even though I am not artistic, it's pretty easy to draw while looking right after the pattern. So my inspiration…

So to start off (after I cleaned it of course) I sprayed the entire thing with green spray paint. Why green? Well, 1) I like the color green 2) I randomly had a can.
Then I cut some cardstock to be the sizes I needed, spent some nights watching TV and drawing to create the top and the drawer fronts.
I then glued the large sheet on top, then realized it wasn't protected, so put clear contact paper on top.

Also, I tapped the papers to the inside of the drawers so I can write on the outside with a dry erase marker, so if I ever want to change whats in the drawer, not a problem!

I know it's not perfect, but it was FREE! Check out the curbs on garbage day, you never know what treasures you might find!
_________________________________________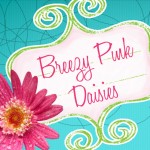 Come see more of my fun projects and to check out Breezy Pink Daisies!
You can also choose to follow Breezy Pink Daisies on facebook, twitter, or email