I just had a baby shower for my sister-in-law. Her first baby! I decided to go with a running/work out theme because that is totally the mom – and we have decided this baby is destined to be athletic! I also got a little Puma track suit at Marshalls today and little socks that look like shoes to go along with the bibs. Here's the "work out" bibs:
And of course I had to make a couple bibs representing the baby-to-be's favorite aunt and uncle! (Keeping reading – you'll see them at the end!) I'm so excited to be an aunt
I used my Cricut to cut out the words on freezer paper (shiny side face down). On this one, the bomb was actually a balloon – could you tell?!

Then I put a towel over the paper and bib and ironed it on until it stuck.

I love painting over freezer paper – because you don't have to be neat! Just try to stay in the square. In this picture I had already removed the "Uncle Kevin" stencil, but you can see how messy the other part looks before I remove the stencil, just wait it will be amazing! Oh, and I used Martha Stewart craft paints mixed with a little fabric medium.

After 24 hours I will iron them again to "set" them and they will be washable (you know, important quality for a bib to have) and wearable!

Which one is your favorite?
______________________________________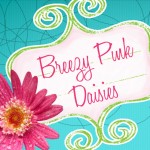 Head on over to Breezy Pink Daisies and let's get to know each other!
You can also follow Breezy Pink Daisies on facebook, twitter, or email