Check out this beautiful scarf! Isn't it cool? AND I made it. and it was actually really easy. If you know how to knit, just the basic stitch, you can make this too.

(This is my showing-off-the-scarf-pose and I know I look silly but oh well!)
The secret is…Starbella Yarn. It's actually netting and you only knit on the far end side and the rest of the "yarn" creates the ruffles. Does that even make sense?

Yeah, I didn't think it would make much sense, I actually thought about making a video for you guys because it's hard to explain with words, but then I found this video by ACMoore. And here's the pattern from Premier.
You can buy this yarn anywhere! I got mine at Michael's with a 60% off coupon a few weekends ago. It is regularly priced at $6.99. I bet you could find this at any sort of craft store.
It looks so pretty and it only takes about the time of one good movie and then maybe a TV show. (I watched Chipwrecked and an episode of How I Meet Your Mother!) I've made three for Christmas presents already – now I just have to figure out who the lucky ladies will be!

______________________________________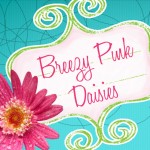 Come hang out with me over at Breezy Pink Daisies!
You can also follow Breezy Pink Daisies on facebook, twitter, or email
{ 0 comments }