I've had this pink glitter Krylon spray paint for a while and decided it was finally time to do something fun with it. So I decided to spray paint some shoes.


I don't even remember where I got these shoes, but they were old and I didn't like them very much. They had a strap across the top which I cut off (you can see it if you look close, but otherwise not noticeable).
First step: Tape off the top and cover areas of the shoes you don't want to be spray painted.


Second step: Spray paint shoes (after you shake the spray paint for a good two minutes and you're feeling pretty good about that arm work out)


Third step: Wait about 20 minute, take the tape off and let dry for 24 hour before you wear them. And that's it! Super easy and super fun.


Spray paint is my favorite! If I do this project again on another pair of shoes, I would put the tape higher up so more of the front is painted, but I think these look nice too

______________________________________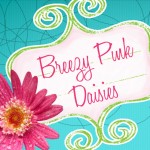 Come hang out with me over at Breezy Pink Daisies!
You can also follow Breezy Pink Daisies on facebook, twitter, or email